invest together opportunity
MySalesChampion
Think Uber of Sales
Think AirBnB of Sales
Think DoorDash of Sales


MySalesChampion will have the largest salesforce in the world while offering sales support for 100,000's of businesses, without having any salespeople.


MySalesChampion is the gig of all gigs. Anyone who wants to sell to make a few extra dollars or a ton of money can create an account, pass an assessment, and then pick the products/services that align most with their values. The final product assessment will unlock leads and viola - the greatest financial gig has been deployed.
Category
Software as a Service (SaaS)
Capital Raise Start Date
March 1, 2021
Deal Structure
$1,000,000 For 10% Non-Voting Stock
Current Amount Rised
$400,000
Minimum Investment
$ 100,000
Investment opportunity brought to you by CILA Labs. Investment opportunity is in MySalesChampion exclusively. This is not an offer to sell securities. An offer will only be made through the Subscription Documents.
Why MySalesChampion?
Let's take a quick look at a few VERY important statistics…
Sales Population Around The World: 71,000,000 people
Total Uber Drivers: 3,000,000 drivers
Total Lyft Drivers: 2,000,000 drivers
Toal Gig Economy Population: 60,000,000 people
Freelance Revenue In the US Alone in 2020: $1.2 trillion
1 out of every 4 Americans has a side gig
Let's also take a look at some stats on side hustles:



Selling or renting property
Median monthly income: $500
Median hourly rate: $81
Maximum monthly income: $7,000


Ride-sharing
Median monthly income: $350
Median hourly rate: $15
Maximum monthly income: $3,000


Fitness training or coaching
Median monthly income: $200
Median hourly rate: $20
Maximum monthly income: $3,000


Freelance work or consulting
Median monthly income: $200
Median hourly rate: $20
Maximum monthly income: $4,000


E-commerce or drop shipping
Median monthly income: $150
Median hourly rate: $15
Maximum monthly income: $6,000


Tutoring or teaching
Median monthly income: $150
Median hourly rate: $15
Maximum monthly income: $3,000


Reselling items online
Median monthly income: $100
Median hourly rate: $20
Maximum monthly income: $1,500


Babysitting nannying, or caretaking
Median monthly income: $100
Median hourly rate: $10
Maximum monthly income: $1,500


Computer repair
Median monthly income: $100
Median hourly rate: $20
Maximum monthly income: $4,200


Network Marketing
Median monthly income: $100
Median hourly rate: $7
Maximum monthly income: $1,230

There has never been a better time than right now than to disrupt the most powerful industry in the world...
SALES
!

Sales is an industry where the grass is always greener AND businesses are always suboptimal.
What this means is that even companies that have built powerful sales teams are ALWAYS looking for more effective ways to scale.
AND
For businesses that can't attract sales talent, they are yearning for a solution.

MySalesChampion has the potential to create history based on the inefficiency the company solves and the size of the market.

You will see the financial projections listed in a later section, which are very attractive and from our perspective VERY conservative.

MySalesChampion is going to revolutionize the freelancer and gig economy because sales is just better than any other opportunity that exists.

The platform will onboard anyone who wants to sell with an assessment to showcase their skill, while also recruiting companies that want access to the largest salesforce on the planet. A sales champion will need to pass a product assessment and then they will be qualified to sell on behalf of the company. Whenever the app is open, the sales champion will get leads from any company that they have been assigned to support.

Outside of the 10,000 tech companies that our parent company, CILA Labs, will deploy over the next 10 years, there are 100,000's and potentially 1,000,000's of businesses that are in dire need of MySalesChampion.
Let's just take a look at a few of the magical use-cases of MySalesChampion…
Use Case #1: Tony Robbins and Dean Graziosi KBB Launch
The KBB launch will go down as the largest launch in the history of the internet with almost 400,000 people registered for a webinar and 40,000 units sold all through internet marketing. But imagine if the KBB launch was placed on MySalesChampion and the platform notified the 5,000,000 sales champions of this opportunity and 150,000 showed up to sell. Do you think there's a chance that the 40,000 units sold would have been 200,000?! We do!


Use Case #2: Stay At Home Parent
What is a parent to do when they put their child down for a nap? Login to MySalesChampion and begin to sell. Uber is not an option, Amazon sales are very hard, Network Marketing is exhausting, Etsy is only for niche creatives, and Freelancing is trading hours for dollars. MySalesChampion creates an entire new economic model for stay at home parents and really ANYONE looking to optimize their side hustle.

Use Case #3: Languages And Countries
Having multilingual sales people is almost impossible for a company, but MySalesChampion solves this completely as we will offer the opportunity to everyone, from anywhere, at any age. Plus, we are able to offer 24/7/365 sales support AND…
A financial even playing field is established for earning. There is no reason someone in another country can't outperform someone in the US.
MySalesChampion is the answer to financial ethicacy where everyone has an even playing field to win and earn.

Use Case #4: Already Successful People
The Co-Founder of MySalesChampion, Jared Yellin, says, "If I had an hour with nothing booked, there is no chance that I would get in my car and drive Uber, but I would 100% jump on MySalesChampion just because of the thrill of selling." MySalesChampion is the first gig that people will do Full-Time, Part-Time, When It's Convenient, and FOR FUN!


Use Case #5: Anything That Needs A Sales Team Has The Answer
From the most obscure products to complex solutions to everything in between - when there is a salesforce of 5,000,000+ people there will ALWAYS be someone interested in to sell your product or service. Plus, people who already LOVE a specific product or service because they are a consumer, will not have the ability to sell it from their own personal experience which is the most effective way to get a YES!
Just to reiterate…


MySalesChampion has legacy potential and the fact that you are reading this overview means you have the potential to help create the legacy.

One more VERY important point…
MySalesChampion Will Become The #1 Gig In History…
The most exciting aspect of MySalesChampion is the fact that there is ZERO cost for a Sales Champion to begin making money…


No real estate investments like AirBnB
No construction cost like AirBnB
No fixing toilets like AirBnB
No running to the house because the TV does not work like AirBnB
No bidding on logos and getting denied like UpWork
No miles on your car like UBER
No gas expense like UBER
No insurance expense like UBER
No monthly minimums to maintain your rank like Network Marketing


Please read this slowly…
MySalesChampion provides a level of accessibility and access to a financial model that is unmatched in the current gig economy.
Competition in the Market
The only direct competition after an extensive analysis is a company called Commission Crowd which is really more of an outsourced sales company versus a platform.


Commission Crowd has a selection of companies that a new salesperson can choose to represent, along with a CRM with limited functionality and an education platform.


Each salesperson is on-boarded by a Commission Crowd Account Manager upon joining and are directed to the sales opportunity that best meets their needs and desires. The financial model for Commission Crowd is also very different from MySalesChampion because the company makes money off of membership fees along with a 1-2% commission that they take from every sale.


Outside of Commission Crowd, the only competition would be other gigs (Freelance, Uber, etc.) which are simply not even close to MySalesChampion based on the earning potential for each champion.
Product Details
MySalesChampion is about to disrupt the entire sales industry and at the foundation of this very exciting journey is the product.
Below you will see our initial Innovation Checklist which is guaranteed to evolve over the course of time…
Company

Onboard a Company

To onboard a new company some information would have to be added. What products are they selling? Will they be providing inbound leads? What will the commission structure look like? Do salespeople need any training to sell your product or service? Is the product or service locked by geography?

Salesperson

Onboard a Salesperson

A new salesperson would be able to see the companies that they are able to sell for. See the commission possibilities. Also, take on required training to become certified in selling the product or service

Salesperson

Light CRM

This will help keep track of any relationships the seller is creating on their own or if they picked an inbound lead from the company.

Salesperson

Reminders of Action steps and follow up

It will be difficult for a person logging on 3 hours a day to remember the different follow up steps that they will need to take and what days to do them. The CRM has to include reminders for following up with leads at all levels of the sales cycle.

Company

Ability to post an inbound lead

Integration with the CRM or lead generator that the company hosting the product or service is using in order for their virtual sales team to use.

Salesperson

Ability to take an inbound lead

When an inbound lead is posted, a salesperson can assign it to themselves. We would need to come up with a way that a person could not just go on and take all of the inbound sales leads for themselves.

Company and Salesperson

Inbound Lead Assignment

Inbound leads will be coming from everywhere in the world. We should be doing our best to keep the inbound lead locations as close to the salesperson that will be following up as we can.

Salesperson

Inbound Lead Marketing Knowledge

Allow a salesperson to stay up to date with the current marketing information that is being sent to potential leads that are filling the top of the funnel.

Company and Salesperson

Training Modules for brands and products

The ability for a company to certify that a salesperson is knowledgeable enough to sell the product. Companies could request at their discretion if any sales training is needed. If sales training is needed, a salesperson would not be able to receive inbound leads for the product.

Salesperson

Marketing Support

Support sales people with creating their own leads by giving them some email campaigns as well as social media content creation tools.

Salesperson

Virtual Wallet and easy 1099

Virtual Wallet for Salespeople to collect and distribute their commissions. Possibly a function to help them keep track of their tax deductible independent contractor expenses.

Company

Notifications to increase activity

Allow companies to notify their salespeople of upcoming events, marketing campaigns, or other activities that would drive increased inbound leads so that Salespeople can be prepared.

Salesperson

Performance Tracking

Track the performance of their time and effort. Track which products or service commissions have the highest return on time investment for the Salesperson as well as generally keeping track of their sales performance.

Company

Sales Analytics

Allow a company to keep track of how the salespeople that are working on their product are doing with selling the product. How many leads are converting to closed sales? Are leads sitting around for a long time before being acted upon?

Company and Salesperson

Two Way Feedback

Allow a company to give feedback to a salesperson about how well they are doing or points of improvement. Allow salespeople to give feedback to the company such as suggested improvements of information to capture from leads.

Salesperson

Knowledge Center

A library separate from the general certifications where a person could go to learn how to be a better marketer, salesperson, leader, and manage their time well.

Company

Salesperson Reviews

When confirming orders for products or services, the confirmation email should also allow for a consumer to leave feedback about how they felt about the Salesperson and review them. Salespeople with low review scores and closing sales could be disallowed from selling for a company.
We take an extremely agile approach to software development in order to accommodate new ideas and ways of achieving an outcome more efficiently.
Ready To Apply To Invest In MySalesChampion?
Apply to be an investor today and not only receive equity in an innovative early-stage tech company, but also gain the opportunity to be an influencer in the very company itself as it's built from the ground up. Get a taste of the behind the scenes, become a beta tester in our MVP, and much much more!
Economic Model
The economic model for MySalesChampion is strong because of a variety of reasons…
Everyone needs sales support
Sales in the gig economy is just better than any other gig
Full Time, Part Time, Convenience, Hobby opportunities
Even-Playing field for every country
Limitless scale in a way that the gig economy has never experienced
Zero barrier to entry
Companies will pay $500+/month to be listed on the platform and the platform will take 25% of the commission that is being paid out (similarly to UBER).


The financial model below is based on the average Sales Champion only generating $75/month in commission, which we believe is extremely low and could easily surpass 5-10x this number where many champions will earn $0 while others earn $1,000,000 or any number in between.
Below you will see a financial forecast snapshot based on a Launch Date of August 1, 2021 through 2025.
We intend to pay quarterly distributions of 10% above tax distribution once we have a bank balance of 120-days of operating expenses.

To see a full financial forecast, please
click here
.
*In our Plan For Exit section, you will see the intention for MySalesChampion.
Ready To Apply To Invest In MySalesChampion?
Apply to be an investor today and not only receive equity in an innovative early-stage tech company, but also gain the opportunity to be an influencer in the very company itself as it's built from the ground up. Get a taste of the behind the scenes, become a beta tester in our MVP, and much much more!
Go To Market
The Go-To-Market team for MySalesChampion is salivating at the opportunity to bring this platform to millions upon millions upon millions of people who want to sell Full-Time, Part-Time, When It's Convenient, Or Even Just For Fun!
The strategy will range from leveraging the top sales trainers in the world, targeting leaders in the gig economy, working with Unemployment Agencies to support those in need, along with connecting in a meaningful way with organizational leadership through the government, various countries, and highly influential associations.


YES, a budget will be established for more traditional paid-for advertising, but the initial catalyst will be relationships, relationships, relationships AND mobilizing the Sales Champions to invite other Sales Champions to join which lead to affiliate opportunities.


We could include a 250 page document on Go-To-Market alone because of the versatility of scaling MySalesChampion.
Please
click here
for a basic IDEA to EXIT Roadmap listed out.
Plan For Exit
One of the early exercises that we deploy when launching MySalesChampion is our plan for exit which consists of answering four specific questions. Please note, this is not a guaranteed outcome, we have no crystal ball, and you should not base your investment decision on the answers to these four questions.


BUT, this exercise is just an example for you to see that our vision is to build, scale, and sell MySalesChampion within a relatively short period of time in order to create a liquidity event for all shareholders.


Who will buy MySalesChampion?
The irony of this question is the company that would purchase MySalesChampion might very well get bought by MySalesChampion.
SalesForce.com


In the Financial Model seen previously, MySalesChampion is an extremely Cash Flow rich company and will produce nearly $2,000,000,000 in profit by the end of 2025. If we were to sell, SalesForce.com would be the most viable suitor to date.


By when?
December 2025


How much?
$50 billion


Why?
MySalesChampion will generate nearly $2,000,000,000 of profit in 2025 and if you were to compare this profitability to companies like Uber with a $75 billion valuation (operating with negative profitability) OR AirBNB with a $75 billion valuation (barely profitable), the valuation of MySalesChampion is EXTREMELY conservative and could easily surpass $250 billion but this would put the company in a territory where being acquired would be extremely difficult just due to the size of the organization.


Once again, this outcome is not guaranteed and instead it's an exercise of intention so that we have a clear target to strive for and all shareholders can rally their energy around making this vision a reality. There are risks associated with any investment you could make. For more information about the description of Risks associated with an early-tech investment, please refer to the offering documents if you are interested in investing.
Use Of Funds
MySalesChampion is raising a $1,000,000 with a $100,000 minimum investment in our angel round pursuant to the offering documents. Your investment will be made directly into our LLC and in exchange you will get non-voting stock in MySalesChampion.
This value of the company at $10,000,000 which is a very fair valuation based on the limitless scale potential and the massive problem that MySalesChampion will solve. Since our Co-Founder is CILA Labs, the full $1,000,000 will fund at least 12 months of operating capital to build the MVP, go-to-market, and scale. CILA operates at cost for MySalesChampion and is 100% aligned with the outcome of build, scale, sell.

For every $100,000 investment, you will own 1% equity in MySalesChampion which is absolutely beyond exciting for you. This is REAL equity (non-voting) in an early-stage technology company that has limitless scale potential.


Once the round is completed with anywhere from 1 person to 10 people making their investments, this is how the funds will be allocated:
$25,000 Branding and Website Development
$325,000 Web and Mobile App Development
$650,000 Go-To-Market (Sales/Marketing/Customer Support/Administrative and General Expenses)

The development team will consist of approximately 15 people including the following roles:
1 Lead Engineer
1 Product Manager
1 System Admin
4 Backend Engineers
1 Quality Assurance
1 UI/UX
1 Themer
4 Frontend Engineer
1 Mobile App Developer
1 Data Scientist

The sales and marketing team will consist of:
1 Marketing Strategist
1 Project Manager
2 Copywriters
2 Graphic Designers
1 Digital Marketer
1 Videographer
5 Customer Happiness Specialists

The day-to-day operations of the company will be the responsibility of CILA Labs.
Ready To Apply To Invest In MySalesChampion?
Apply to be an investor today and not only receive equity in an innovative early-stage tech company, but also gain the opportunity to be an influencer in the very company itself as it's built from the ground up. Get a taste of the behind the scenes, become a beta tester in our MVP, and much much more!

Our Secret Weapon
CILA Labs is investing more and taking more risk than any other party for MySalesChampion which is a HUGE opportunity for you.
CILA takes responsibility for the major six functions of all portfolio companies…
1 - Build the product
2 - Go-To-Market
3 - Limitless Scale
4 - Financing
5 - Team Expansion
6 - Exit
The reason this matters is because the only way CILA makes money is if YOU make money.


All of the above is performed at COST and CILA is highly motivated to hit cash flow positive as quickly as possible and then prepare for an exit within 1-5 years.
In addition, CILA has the track record and resources to do what has NEVER been done in the space of technology.


With an India Development Team that is top in the country that is scaling with 25 new hires a week, combined with a management team that has a deep understanding of how to build companies for significant financial exits, and a cost structure that can't be beat because everything is done at cost - the likelihood of success is as high as you can find anywhere and this is because of our secret weapon…


CILA Labs!
The CILA Labs Method Will
Support MySalesChampion
Create
Phase One of the CILA Method is extremely exciting for everyone involved because this is where we act like everything is possible and we document every detail that comes to mind for the product that we are about to build.
Innovate
We are now going to innovate which means we will have the CILA development team structure a 30-60-90-120 day plan to build an MVP (Minimum Viable Product). In order to achieve this milestone, we must step into the world of innovation where we begin to simplify the first version of our product in order to deliver on time, get meaningful data, and generate cash flow to fund ongoing development. Phase two is the most critical step in the CILA Method.
Launch
There are not many rules at CILA, but one of the most prominent other than LIVE WITH INTEGRITY is to attempt to LAUNCH within 90-120 days of the first line of code being written. This is absolutely essential so that no product is overdeveloped and this launch fast approach will enable us to collect the appropriate data to see if we are on the right track or if a pivot is needed. Plus, the goal is that by day 90 post launch we are able to continue funding the company through cash flow.
Accelerate
We have a core belief at CILA which is rapid acceleration and the most effective way to achieve this outcome is through the deep levels of relationship capital we have established over the years of "doing the right thing." We believe that every business is one relationship away from a positive explosion and we seek to find this relationship as quickly as possible so that we can dramatically accelerate the growth of the new company and product.
Timeline
We are ready - are you?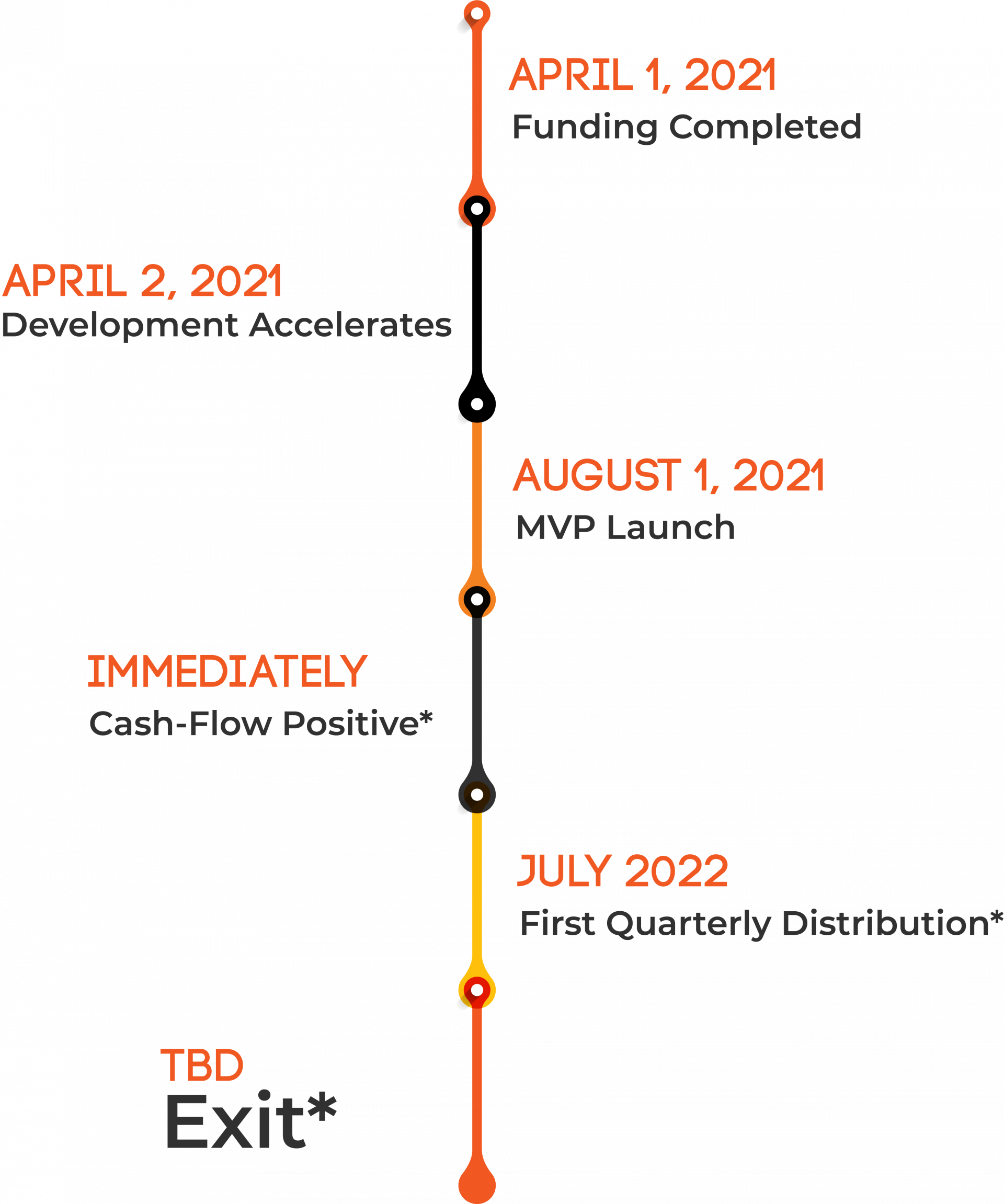 *This is our goal and it should not be looked upon as a guarantee, but rather our deepest desire and intention.
Ready To Apply To Invest In MySalesChampion?
Apply to be an investor today and not only receive equity in an innovative early-stage tech company, but also gain the opportunity to be an influencer in the very company itself as it's built from the ground up. Get a taste of the behind the scenes, become a beta tester in our MVP, and much much more!
Meet Our World-Class Team
Jared Yellin stands to create radical transparency in the world of software development for non-tech entrepreneurs.
Jared is a father to two beautiful children, Taylee and Ryker, and he has committed his life to doing whatever possible to create more freedom with his kids.
He's also a parallel entrepreneur who focuses on launching companies that even the playing field.
From marketing solutions…
To educational platforms…
Simple sales training…
And so much more!
Jared has already supported thousands of small business owners over the past 10+ years and he brings a depth of knowledge on marketing and scaling a business (while "having it all") that is not only diverse but is also extremely practical and proven. In fact, his no-nonsense style to growth allows people of all levels to thrive when it comes to meeting and exceeding their goals.
Jared is the Founder of SYNDUIT, the first marketing platform with content for your industry that is currently supporting thousands of small businesses from around the world. In addition, Jared Founded CILA Labs which is a technology incubator that builds technological ideas with and for non-tech entrepreneurs AT COST plus and then focuses on massive acceleration and positive disruption.
Finally, Jared's mission is filled with a desire to serve as it focuses on the following:
"I am driven to help 10,000 non-tech entrepreneurs build their technical ideas so that together we can change industries, communities and the world."
Mani Soundararajan started writing computer programs at age 11 in BASIC, on a borrowed ZX Spectrum, storing his programs on a cassette tape. Luckily for him, his school soon started a computer lab where he would spend most of his free time. Through school and college, Mani learned programming languages, problem solving, analytical thinking and the discipline to focus.

In his professional career spanning over two decades, Mani has worked on a range of technologies - from Microsoft's early web stack (ASP, Visual Basic/C++, SQL Server) to running embedded firmware on a 32-bit ARM 7 processor to working on open source technologies.

In 2002, Mani joined MobiApps, a Bangalore, India based start-up that was building GPS based vehicle tracking systems for trucks and buses, targeted at fleet managers who wanted real time status on the location of their fleet. It was here that Mani pivoted from the service industry to the product industry. Mani played a variety of roles here: developing the fleet management system with real time map visualization, developing the embedded firmware for the tracking device, installing the tracking device on trucks / buses, debugging problems remotely on the phone, and when needed, even soldering chips on the circuit board and burning the latest software updates on a CD to be shipped to the customer. This experience enabled Mani to be the Chief Technology Officer of later companies.

In 2007, Mani started his own software consulting firm, Xemla Tech, which was later acquired by Infanion. Here, Mani worked on developing web based applications using Drupal. Mani started Xemla Tech as a one-person company and soon grew it to more than 20 people working on multiple projects. Mani was actively involved in mentoring the team and setting up software development processes. Apart from running the web server, Mani was running an email server which serviced about 40 customer domains. Mani also ran a git server (that was before Github was a thing) to manage various source code repositories.

In 2013, Mani moved to New York and joined SYNDUIT. Over the next seven years, he built a rock solid software engineering team and launched several innovative product features. Mani pioneered the adoption of microservices and Docker container technology at SYNDUIT. Mani also helped SYNDUIT transition from a relational database to MongoDB, a schema-less document based database that allows the technology team to innovate faster and adapt quickly to everchanging business needs. At SYNDUIT, Mani preaches and practices the DevOps philosophy - fast flow, feedback and continuous learning and experimentation.

In 2019, Mani moved to Kitchener-Waterloo, Ontario, Canada.

In 2020, Mani co-founded CILA Labs - a first of its kind technology incubator with a goal of helping non-tech entrepreneurs realize their tech-based startup idea.

Mani cares deeply about the Software Engineering discipline. He believes that good software starts with a loosely-coupled highly-cohesive architecture - but that is just the beginning - good software engineering discipline also covers testing, benchmarks, logging, metrics and traces. Mani is of the opinion that software must be written first and foremost for humans to read, understand and maintain, and second for computers to interpret and execute.

Mani is very passionate about the Internet - and supports organizations like EFF and CitizenLab that defend our rights in the online world. Mani is optimistic about the future, and dreams about a more open and decentralized web.

And yes, Mani is happily married and has an awesome son who is his main man!
Eric Nowoslawski comes from a large family. He is the first of triplet boys followed by twin boys. The result was some pretty serious competition in the house on everything from sports to academics. At age 16, Eric earned his Eagle Scout award. His four brothers all received theirs.

Eric graduated from Bergen Community College in 2016. He went on to Rutgers University and received his BS in Business Management and Global Trade in 2018. While in college, Eric began coaching youth gymnastics despite having no previous experience. His students won several state championships and several received college scholarships.

While still an undergraduate, Eric was asked to help found a startup Donor Advised Fund called CCF Giving. Eric's support and perseverance for the project helped it to be acquired within one and a half years from launch. Also while at Rutgers, Eric began working with the SBDC and providing consulting to startup businesses.

Finding a sense of accomplishment from helping businesses succeed, Eric joined the Gateway Regional Chamber of Commerce in 2018 as the Assistant to the President. After less than a year, he was promoted to Director of Special Projects. Eric is a firm believer that "Your Network is your Net Worth" so he helps Chamber members expand their overall business reach as well as their close contacts to help them earn and save more money.

Eric also has a passion for public speaking and speaks on behalf of the Chamber to audiences of all sizes. He was trained by the Dale Carnegie organization and he is now a Dale Carnegie coach in his spare time.
Dr. Ben Lerner is the President/CEO of the Ultimate Influence Group (UIG). UIG owns, manages, and has invested in multiple companies and start-ups in tech, finance, marketing, real estate, manufacturing, consulting, and coaching. He has written two NY Times Best-Selling books, traveled to four Olympics as a U.S. Team doctor, and is a Strategic Advisor for CILA Labs.

Dr. Lerner has a Bachelor's in Nutrition, a Master's in I/O Psychology, is a Doctor of Chiropractic, and is finishing a Doctorate in Business Administration. He has utilized his healthcare and business training to build a manufacturing and franchising organization with over 100 locations and develop processes for another 500 locations to operate as licensees now known as MaxLiving which he exited from in 2017.

He places a strong focus on innovation, financial growth, quick go-to-market strategies, and succeeding during chaotic times. Adding revenue streams, strategic planning, improving technology, and optimizing community and on-line marketing are core elements he addresses when starting up, managing a company, or coming in to advise.
Neal Anderson
Chief Revenue Officer
Neal Anderson is a husband, father, inspirational speaker, performance coach, and top-selling author. Over the past 20 years, Neal has been selling products, leading teams, and inspiring people to move their businesses and their lives to the next level.

Neal has had thousands of clients that range from a 2-time Super Bowl Champion to top-producing sales leaders, business executives and entrepreneurs from various industries, backgrounds, and experience levels around the world. Neal was also a top- producing sales executive completing over 50,000 prospecting calls, 5,500 in-home presentations, and over 5,000 more in a corporate setting with everyone from lawyers and law firms, health professionals and doctors to government agencies and real estate professionals. Neal graduated from Indiana University and received a Juris Doctorate from Vermont Law School.
Katie Vold is the epitome of operational efficiency. She has been the Director of Operations for an extremely fast-growing SaaS platform for small businesses to a sales training company and now CILA Labs.

Katie has her eyes and ears on every division of CILA in order to consistently find ways to simplify the complex. From supporting investor relations, creating structure in our Go-To-Market processes, laying a foundation for the product roadmap and everything in between, Katie is instrumental in the way CILA has been able to scale. Outside of her role as Director of Operations, Katie is a superstar college basketball player, engaged to the love of her life, and lives in Oregon with her dog Phoebo.
Tiffany Schoonmaker
Director of Marketing
Tiffany Schoonmaker is the definition of marketing execution. She has ventured across various industries, including finance, legal, personal development, and in the agency space. She was the digital content producer and execution lead for the second largest bank in Western CT, the Director of Marketing for a large NJ law firm with 2 Top 100 National Jury Verdicts, as well as a fast-growing sales training company and now manages the marketing for CILA Labs.

She has an endless strive for excellence and hunger to bring the most innovative and effective out of the box tactics to CILA. Her platform and marketing avenue experience is vast and unmatched — from marketing automation, CRM, email marketing, social media, SMS, online advertising, content marketing, websites and custom builds, traditional advertising methods such as print, billboards, TV, radio and much more. She also currently holds certifications in Google AdWords, Google Analytics, and is Snapchat Ads Manager Certified.
CILA Labs
CILA Labs Is Disrupting The Software Industry By Offering Development At Cost Plus And By Deploying Radical TransparencyCILA Labs Is Disrupting The Software Industry By Offering Development At Cost Plus And By Deploying Radical Transparency
We strive to be more than a technology incubator.

We intend to BUILD technological ideas for non-techy entrepreneurs.

Literally, we are assembling the RIGHT team for each portfolio company so that their idea becomes our reality.

AND, we do this AT COST plus!
Come with your idea, leave with a vision.
Thank You - Thank You - Thank You!
Hello Potential Angel Investor,
We are honored that you have made it through our investor opportunity page.


MySalesChampion might go down as the single greatest investment opportunity in history based on the seismic inefficiency that the platform will solve, virality of how sales champions and companies are recruited, and the financial valuation potential.


YES, every investment has risk, but when you combine our team and the problem we solve, MySalesChampion is the PERFECT and MOST EXCITING investment for the RIGHT person.


By making an investment in our Angel round, you will be at the ground floor of building a world-class tech company that creates a new norm in the gig economy and in sales.


We hope you understand and can see the vision of what MySalesChampion will produce in the world and we would be honored to call you our partner on this journey.


Whether you invest $100,000 or $250,000 we will consider you a partner and we will be honored to lock arms.

TOGETHER, We Achieve More!
We are honored and excited that you are interested and VERY enthusiastic to get you involved in our Angel Investor Round.
We are VERY enthusiastic to see you are interested. If you have specific questions, we would LOVE to hear from you and we will be happy to schedule a call as well.


Please complete the form below and a member of our team will be in touch shortly.
PL
EA
SE NOTE: This is not an offer to sell securities but only an invitation to Accredited Investors who are interested in receiving more information about MySalesChampion. An investment in MySalesChampion can only be made by means of the completion, delivery and acceptance of the subscription documents. The forward-looking statements and financial projections contained in this presentation are expressly qualified by the description noted in the attached link - "Legal Disclaimer".
Become a ChangeMaker
Opportunity For People That Want To Make A Difference
The First Network For Mission-Driven Humans Who Yearn To Connect With Like-Minded People While Benefiting From Early Investment Access To Some Of The Most Innovative Tech Companies In The World
By checking the box above, you agree to all company policies, including but not limited to the Privacy and Cookies Policy, Terms of Service and Membership Agreement all of which you can read by clicking on Terms and Conditions or by
clicking here
.
Guaranteed Security using one of the most advanced encrypted systems on the market.
The information in this page is being processed and encrypted securely using industry-leading encryption and fraud prevention tools.